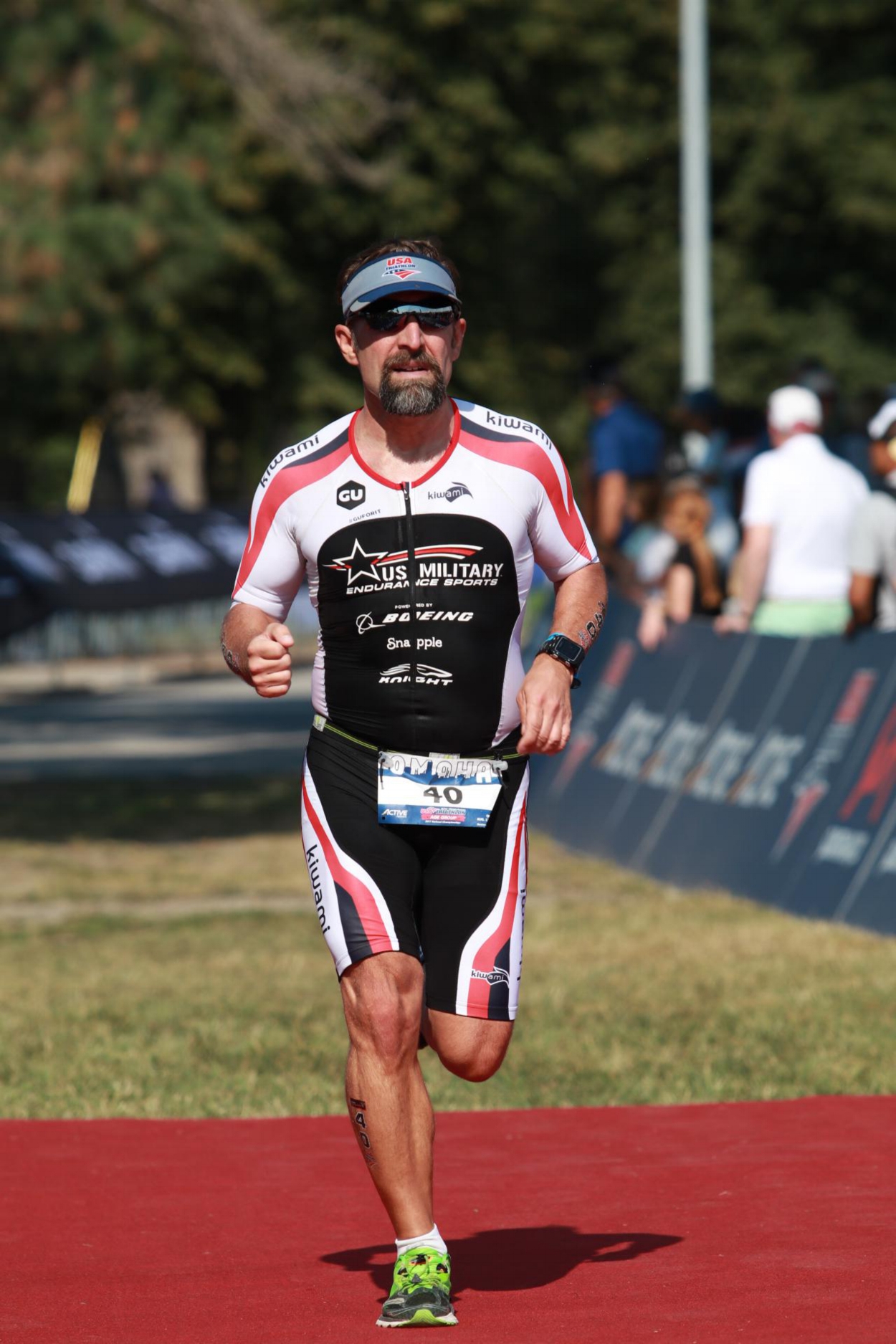 Coach Ken Roberts, a.k.a. "Top", is an athlete, a martial artists, an endurance coach, fitness trainer, a veteran, a father, and Registered Dietitian. All of these things together build knowledge and practical experience.
Through his own experience in athletics and coaching others, he understands the importance of nutrition for performance and wellness, which is why when he retired from the Marine Corps he founded Top Nutrition and Performance, LLC.
Pictured to the left is a photo of Ken crossing the finish line at the USA Triathlon National Championships in August of 2017. The kit he is wearing is the US Military Endurance Sports (USMES) kit. In June of 2017, he retired from the U.S. Marine Corps after 20 years of service. The information on this website does not represent USMES or the Marine Corps, rather it shows that he is a proud member and supporter of his fellow veterans. As a service member he proudly served his country, and now as a dietitian and sports coach he continues to serve his community.
Certifications and credentials include:
Registered Dietitian (RD), Commission on Dietetic Registration (CDR)

Licensed Dietitian Nutritionist, Illinois & Missouri

IronmanU Certified Coach

USA Triathlon Level I Coach

USA Track and Field Level 1 Coach

Certified Personal Trainer, American Council on Exercise (ACE)

Elite Trainer, International Sports Science Association (ISSA)

Certified Fitness Trainer, ISSA

Youth Fitness Trainer, ISSA

Fitness Nutrition Specialist, ISSA

Exercise Therapy Specialist, ISSA

Functional Movement Screen, Level 1 Certified

American Red Cross CPR

U.S. Marine Corps Retired

Marine Corps Physical Training Instructor

Marine Corps Drill Instructor

Marine Corps Martial Arts Instructor Trainer
Education background:
Masters of Arts in Family and Consumer Science with a multidisciplinary concentration in health communication - Fontbonne University in St. Louis, MO.

Dietetic Internship, Individualized Supervised Practice Program (ISPP) - Fontbonne University in St. Louis, MO.

Public Health Nutrition, Certificate of Training, Academy of Nutrition and Dietetics (AND)

Bachelors of Science in Dietetics - Kansas State University in Manhattan, KS.

Diabetes Paraprofessional Level 2, American Association of Diabetes Educators (AADE)

Vegetarian Nutrition, Certificate of Training, (AND)

Nutrition Counseling, Certificate of Training, (AND)
You can see some of my races listed below, or click here to view my Athlinks timed events:
Running Races - Everything from 5ks, 10ks, half marathons, marathons, and ultra-races.

Triathlons - Distance of triathlon, from a reverse sprint, to sprint, olympic, 70.3, and Ironman 140.6.
Cycling - Fun rides and races of 20-50 miles, and others from 70-112.

Obstacle Course Races
2 World Toughest Mudder 2015 & 2016 - Finisher
1 Toughest Mudder Midwest 2017, completing 25 miles
10 Tough Mudder Events, with 2 events completing 2 laps in a day
2 Battle Frog Extreme(s)
1 Spartan Trifecta (Sprint, Super, and Beast)
1 Warrior Dash
1 Rugged Maniac
1 Atlas Race
2 3-5mile Mud Runs